Famous Magicians in History: Top 30 Famous Magicians/Illusionist in History.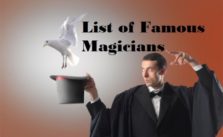 Throughout history, the art of illusion has been a great fascination of men, however, the practice has also terrified many. This art of deception consists of acts that can fool the eyes of mortal man, acts which has been deemed by men of a certain caliber to be the works of mere tricksters or con men. The practice of magic can be traced back to ancient Egypt in 2700 BC and is rumored to have been first practiced by Dedi in Westcar, Papyrus, who was said to be a conjurer of balls. In modern times, the practice has been viewed as a rare and valuable talent that unlocks the world beyond that of everyday human imagination. This talent has been practiced and perfected by many over the past two centuries with the dominance of more male counterparts and the rare appearance of women along the way. Such recognized ones included; Harry Houdini, Dynamo, Harry Jansen and "Magic Babe". Their performances would comprise of; the art of escape, conjuring, disappearing acts and many more trickery. Here's the List of top 30 famous magicians in the history of Magic.
Harry Houdini
The most recognizable man in the profession of magic would undoubtedly be deemed as none other than "The Great Houdini". Rightly named Erik Weisz, Harry Houdini was born in Budapest, Hungary in the year 1874 on the 24th of March to a Jewish background. Noted as the ultimate stuntman, who always pushed the envelope with his death-defying acts. Whether in a stray jacket or handcuff, Houdini would always perform escaping acts from the most extreme circumstances. Such situations would offend find him either buried alive, submerged in deep waters or even dangling from a skyscraper, nevertheless, he would execute these acts seamlessly. This would earn him a reputation that not only quiet those who questioned the genuineness of his talents but also allowed him to gain the position of president of the Society of American Magicians. A position that he used to defend the talents of his fellow magicians by weeding out the imposter among them. He's no doubt one of the most influential and famous magicians in history of magic.Sadly, though, after battling with peritonitis, Houdini succumbed to his condition on October 31, 1926, at 1:26 pm, in Room 401 at Detroit Grace Hospital. He was the age of 52.
David Blaine
The renowned contemporary illusionist is best known for his high-profile feats of endurance. He has set and broken several world records. His first TV special was 'Street Magic', which the legendary Penn Jillette has described as 'the biggest breakthrough in television magic done in our lifetime'. One of his most notable performances was the 'Buried Alive' one, which he performed on the 5th of April, 1999. The performer was entombed in an underground plastic box underneath a 3-ton water-filled tank for seven days. During the stunt, Blain did not eat and drank only two to three tablespoons of water a day. On the final day of the stunt, hundreds of news teams were stationed at the site. After emerging from the box Blaine said 'I saw something very prophetic… a vision of every race, every religion, every age group banding together, and that made all this worthwhile.'. The young magician has outdone his idol, Harry Houdini, who had planned a similar stunned, but died before he could perform it.
Criss Angel
Christopher Nicholas Sarantakos began his career in New York, before moving to the Las Vegas Valley. He is mostly known for starring in the television and stage show 'Criss Angel Mindfreak' and his previous live show 'Criss Angel Believe'. The latter was produced in collaboration with Cirque du Soleil in Las Vegas, at the Luxor casino. The performer's popularity began to soar in 2005 when he created the 'Mindfreak' show.
It was the first weekly magic television show to air in 40 years. One of Angel's most notable acts was performed in July 2008. Angel escaped from a hotel before its demolition in front of about 50 thousand people. He then showed the audience step by step how he did it. He first picked open a set of handcuffs that had him shackled to a railing, then smashed a window to enter the hotel. Then, he picked padlocks on the room's door and on the stairwell door. Angel emerged from the rubble after the collapse. The total time allocated for the act was 4 minutes, with dynamite located on the first, second, and fourth floors of the building.
Doug Henning
Born in Canada in 1947, Doug Henning was a renowned illusionist, escape artist and politician. He first performed at the young age of 14. He also performed as an entertainer at parties and had a series of magic shows on local television in Toronto. Later, he appeared in three Broadway shows and many more TV specials. One of his most impressive acts was an illusion borrowed from the legendary Harry Houdini. It was called 'Metamorphosis'. In the beginning of the act, Henning's assistant was handcuffed and tied in a sack, which was put in a padlocked chest. Henning stood on top of the chest and, on the count of three, he switched places with his assistant. Henning was handcuffed in the trunk, while the assistant would stand in his place, on top of it. While Houdini needed 20 seconds to perform this, Henning did it in less than 10.
David Copperfield
In this list of Famous magicians in history, David Copper field is Both Famous and Rich. David Copperfield, an illusionist best known for his levitation act through the Grand Canyon, is noted as the most successful magician at acquiring wealth through his profession. Born David Seth Kotkin on September 16, 1956,  Copperfield is worth approximately 800 million, which according to Forbes magazine, earned him a First place amongst "the elite club of ultra-rich self-made celebrities". He has earned 21 Emmy Awards for a television program, 11 Guinness World Record for 40 years in the magic industry and his name on the Hollywood Walk of fame. Despite being so accomplished, Copperfield tries to keep his true love for the arts alive by collecting magical artifacts of all shapes and sizes, throughout history. He has encounter mishaps that may have caused some damages through the course of his career but he is still going strong and continues to do what he does best.
Dynamo
Next, on our list, this Master of Mystical arts hails from the land of the Queen and is none other than Steven Frayne, best known as Dynamo. Born on December 17th in the year 1982, Dynamo is one of those magicians who mainly revolve around the commercial side of magic and he tends to stick to the more basic side of the craft. His executions would mainly comprise of card tricks, levitating on water and disappearing acts, which seems quite basic compared to his peers, mentioned before. Still, he continues to make his name in magic without having to keep outing doing himself as the Greats were known best
Raymond Joseph Teller
Teller is an American illusionist, comedian, magician, and actor. He was born in 1948 and is best known for being half of the magic duo 'Penn & Teller', along with Penn Jillette. Known for rarely speaking during performances, he has legally changed his name from Raymond Joseph Teller to the mononym 'Teller'. One of his most impressive tricks is the fish tank trick. In this, he first picks a member of the audience who sits on a chair next to a tank filled with water. Teller then hands the assistant a fishbowl. After briefly washing his hands in the fish tank, teller drops a coin in the fishbowl. Then, he repeatedly puts his hands in the water and making coins appear, only to keep dropping them in the fishbowl. He then makes more coins appear out of thin air. The trick climaxes as Teller puts his hands in the fish tank for one last time. This time, a huge number of live goldfish appear in the tank, making for one of the most beautiful magic tricks to be seen.
Penn Jillette
Penn Fraser Jillette, born in 1955, is an American juggler, comedian, magician, inventor and best-selling author. He is best known for his work with previously mentioned Teller. He is also known for his advocacy of atheism and scientific skepticism. Penn always has a red fingernail. He said that he paints it red for remembrance and respect for his mother, who told him to get a manicure when he began performing. In response to that, he had all of his nails painted as a joke. One of his best-known tricks is the 'Nail Gun' trick. He performed this as part of the 'Penn & Teller: Fool Us' show. In the trick, he uses a nail gun to stick some nails into a board. As he explains how the nail gun works, he puts it to his hand and pulls the trigger, but nothing happens. Then he keeps alternating between sticking nails into the board and firing the gun at his hand. Meanwhile, he explains how many magic tricks are based on simple memorization.
Derren Brown
Derren Brown is an English mentalist and illusionist. His television debut was in 2000 with 'Derren Brown: Mind Control'. He has produced several other shows both for the stage and for television. He has also written books for magicians as well as the general public. Probably his most notable trick is the lottery prediction. In 2009, Derren Brown has successfully predicted all the winning lottery numbers. After spending one year to prepare for this performance, he set up the event in a secret studio location, telling viewers only he and two cameramen were present. The stunt marked the start of a new series of TV tricks from Brown.
P.C. Sorcar
Protul Chandra Sorcar is a famous magician from the state now known as Bangladesh. He was born in 1913 and died at the age of 57 of a heart attack. He became famous in the mid-1930s when he performed shows in Japan and several other countries. He gained a lot of fame in 1952 when he performed his cutting a woman in half illusion on TV. The show went off air before the fate of his assistant was made known to the audience. This caused many concerned viewers to call, asking if she was alive. The illusionist received numerous awards, including The Royal Medallion and The Sphinx.
Jean-Eugène Robert Houdin
Jean-Eugène Robert Houdin was a conjurer and a master of his craft, for this he is remembered as a father of the conjuring.  And great he did became, not how his father had anticipated but great nevertheless. He is to be credited as the inventor of many tricks accustomed to magicians today. These include "Second Sight", "The Ethereal Suspension" and his most recognized, a series of illusions titled "The Marvelous Orange Tree".
Dante the Magician
Dante the Magician, one of the greats who's death marked end of what was called the "Golden Age of Magic", was born Harry August Jansen on October 3, 1883, in Copenhagen, Denmark. His world of magic did not extend beyond the stage but was in no way limited to just one. He was a global sensation as an illusionist with his trademarked words "Sim Sala Bim", traveling from stage to stage, theater to theater, country to country.
Harry Blackstone
Harry Blackstone, another one of the Great in magic, is one who's  performances, like Dante's, were limited to the stage. Blackstone was born Henry Boughton on September 27th, 1885 in Chicago, Illinois. His career as a magician during the second World War, as a USO entertainer, when he was only a teen. On stage, he was called "The Great Blackstone" and was always assisted by one or more female aides. His former of magic consist of illusion for Vegas-like entertainment. His performances were constructed with acts that would keep it's  audience on the intrigued and in suspense while provoking overwhelming aw'sand oh's, with the addition of "the outstanding applause". But even though Blackstone's acts might seem simple compared to those of Houdini's, they were still among the first of their kind, earning him a place among his fellow greats in the history books. He also gave his son a legacy to carry on into the modern era of magic.
Harry Bouton Blackstone Jr.
Harry Bouton Blackstone Jr. is one that needs no introduction, due to the reputation of his father, "The Great Blackstone". Born on June 30, 1934 in Three Rivers, Michigan, Blackstone had the privilege of being raised and trained first hand by one of the Greats. Not only was he taught how to perform his tricks, he is also reported to be involved in some of them as a prop, giving an even better understanding of how they are executed. Even though Blackstone is recognized as being the son of one the greatest magicians in history, he has also made his own achievements in the world of magic. He constructed a set magic kits that can be used teach the practice of magic at different stages of experience, which were labeled as the best of their kind. Blackstone made it a profession of working on special effects for amusement parks and large events. He later branched out of his element, proving himself a man of many talents by taking up a career in actor and has appeared in many projects on television. He was presented with the "Magician of the Year" Award from the Academy of Magical Arts in both of 1979 and 1986, was reported to be the most highly award magician at the time of his death in 1997.Blackstone's accomplishments would have set the ground for fellow practices of the craft in this modern age laid ahead.
Cyril Takayama
One of the more culturally diverse of the lot is Cyril Takayama, an illusionist whose career follows a similar path to that of Copperfield and Blackstone Jr. but with a slight push into the cyberspace. Takayama was born on September 27th, 1973 in Hollywood, California which provided an environment that helped him develop a love for the stage from a tender age. His most renowned feats find him detaching his head right off his shoulders, bungee jumping from hotel building to recovering a specific card from a pool below and even a trick simply entitled "Hamburger in the Menu". Takayama might not have attained as much commercial concessions as Copperfield but he has certainly made a name that has become memorable amongst the people of his Japanese ancestral background.
Lance Burton
Lance Burton is an American stage magician. He has performed in more than 15 thousand shows in Las Vegas. Burton first became interested in magic at the age of 5, after seeing Harry Collins perform at a Christmas party. After a neighbor gave him a book titled 'Magic Made Easy', Burton quickly learned all 10 tricks that were presented in it. He then started performing for children around the neighborhood, charging them a nickel each. In 1999, Burton staged an illusion in which he appeared to escape the path of a speeding roller coaster. The roller coaster was 'The Desperado', which is one of the tallest and fastest roller coasters in the US. To get the idea, it takes one minute to climb, but only 3.5 seconds to descend. The performer appeared to avoid it by less than a second. After the escape, Burton looked at the camera and said 'I was stupid… I was really stupid.'
Jon Dorenbos
Another well-known magician is Philadelphia Eagles' long snapper, Jon Dorenbos. Having picked up on magic at the age of 12, the football player became best known as a magician after performing on 'America's  Got Talent'. One of his most impressive tricks in his repertoire is the one he performed on the auditions of the show
James Randi
James Randi is a Canadian escape artist and debunker of paranormal and supernatural claims and a famous magician. Early in his career, Randi performed numerous escape acts from jail cells and safes around the world. He has even escaped from a straitjacket while being hung upside down above Niagara Falls. One of his most notable performances took place in 1956. He appeared live on the 'Today' show, where he remained submerged in a metal coffin in a hotel swimming pool. He spent 104 minutes like that, beating Harry Houdini's record of 93 minutes. The Canadian escape artist calls attention to the fact that he was much younger than Houdini when the first record was established. He is devoted to exposing fraudulent claims of the supernatural. He offers a $1 million prize to anyone that can prove him wrong.
Harry Kellar
Harry Kellar was an American magician born in 1849 in Erie, Pennsylvania. He was a predecessor of Harry Houdini. He started working in the field of magic as the assistant of Isaiah Harris Hughes. He performed alone for the first time at the age of sixteen, but the show was not a success. After two years, he tried performing solo again, this time with better results. One of his most impressive tricks involved Kellar borrowing rings from spectators. He would then load the rings into a gun and firing them toward a locked chest. Then, the performer would unlock that chest, only to discover another smaller chest inside. Inside the second chest, the spectators' rings would be found to be tied with ribbons to flowers inside of smaller boxes.
Dai Vernon
Dai Vernon was a Canadian expert in sleight of hand. He was a mentor to numerous famous magicians and his influence was considerable in the magic world. He billed himself as 'The Man Who Fooled Houdini'. He used this title after, obviously, fooling Harry Houdini. Houdini often said that if he saw a card trick performed three times in a row he would be able to figure it out. Dai Vernon then performed a trick that had Houdini scratching his head. Dai would remove the top card of the deck, placing it second from the top. He would then turn over the top card to reveal the original card that he had moved. Houdini kept insisting that he would do the trick again, but after seven times, he had to face the truth: he had been fooled. It's no surprise that the magician who fooled The great Harry Houdini made his way in the list of famous magicians in history.
Paul Daniels
Paul Daniels was an English magician and television presenter. 'The Paul Daniels Magic Show' ran on the BBC from '79 to '94 and is the TV series that brought Daniels his international fame. In 1982, he was the first magician from outside the US to receive the 'Magician of the Year' award, given by the Academy of Magical Arts. In 1987, he hosted a Halloween live special of his magic show. That night, he replicated a Houdini escape from an iron maiden. The trick was staged to make the audience believe that the escape had gone tragically wrong. Later, Daniels was broadcast as having escaped from the device in one piece.
David Devant
Next on our list is English magician and shadow graphist David Devant. He was born in Holloway, London, in 1868. He was a member of the famous 'Maskelyne & Cooke' company and performed regularly at the Egyptian Hall. Also, he was the author of several manuals on conjuring. Devant mentored the Scottish – American magician Max Holden. He often performed a trick with a magic kettle. The magic kettle would seemingly produce an endless flow of different drinks. Devant was also the first president of The Magic Circle. He's no doubt one of the most influential and famous magicians in history of magic.
Chung Ling Soo
Chung Ling Soo is actually the persona that William Ellsworth Robinson created for himself. The American magician first performed as 'Robinson, the Man of Mystery', starting at the age of 14. He created the Chung Ling Soo act in 1900 and has also created a great back story for himself. He never spoke English on stage. To communicate with the journalist he used an interpreter. His best-known trick is the one that got him killed, unfortunately. During a performance of the 'Bullet Catch' trick in London, the gun malfunctioned, firing a live bullet into the magician's lung. That was the only time when he spoke English on stage, saying 'Oh my God. Something's happened. Lower the curtain.' He was quickly taken to a hospital, where he died the next morning.
The Pendragons
Jonathan and Charlotte Pendragon were one of the best known American magic duos. Jonathan has worked as a stunt double for John Belushi, coordinating several stunts. Out of the Pendragons' repertoire, one of the most notable tricks is 'Metamorphosis', illusion invented by John Nevil Maskelyne. The trick begins with Jonathan being tied in a sack and locked in a chest. After that, his wife stands on top of the chest and lifts a curtain in front of her. In less than a second, Jonathan appears in her place and throws the curtain away. He then unlocks the chest, revealing his wife in the sack that he was initially in. The illusion got the Pendragons a place in the 50th edition of The Guinness Book of Records.
Richard Ross
Richard Ross was a famous illusionist from Poland. He was born in 1946. He picked up magic as a hobby when he was 16 years old. He is best known for his rings routine. The routine starts with Ross holding two metal rings. He then proceeds to link the two rings, seemingly by mistake. After that, he grabs the third ring, resting it on his arm. With a smooth, elegant movement, he separates the first two rings. The routine ends with him dropping the third ring and, once again, seeming accidentally, linking it with another one.
Shin Lim
Shin Lim is a nearly completely self-taught sleight of hand artist. He has learned magic mostly from YouTube tutorials. Lim is the current world FISM Close Up Card Champion. One of his best-known performances is the one from the 'Penn & Teller: Fool Us' show. He ends the show by making a deck of cards disappear in a cloud of smoke.
Ning Cai
The diamond amongst these rugged, a mistress of her craft, Magic Babe Ning. Rightly named Ning Cai, Babe was born on October 16th, 1982 in Singapore and is a pioneer for mainly females in her field. With the title of "South East Asia's First Professional Female Magician", is an epitome of "beauty and brains" in her profession and named "sexiest woman in magic" by Magic Seen, UK's biggest magic magazine. Whilst putting a glamorous twist on the craft, Ning also maintains a reputation for taking her skills very seriously and is said to always display an entrepreneurial spirit.
Ricky Jay
Another name in our list of Famous magicians in history is Ricky Jay. Born Richard Jay Potash, Ricky Jay is an American actor, writer, and stage magician. He is a master of sleight of hand but is also known for card throwing, stage a patter and memory feats. Also, he is a great magic historian and has written a great deal on magic. One of his best-known tricks is related by Mark Singer in his 1993 'New Yorker' profile of Jay. Jay spread a deck of cards face up on a bar and asked a man to concentrate on a card, without revealing it. After that, he put the deck face down, shuffled it, cut it into two piles and asked the man to point at one of them and name his card. The man said that his card was the three of clubs, and then turned the first card of the pile he had chosen, revealing the three of clubs. A man who was watching the performance said that he was also thinking of a card. Although Jay said he only performs for one person at a time, the man insisted. Jay then asked him what card he was thinking of. The man answered 'Two of spades'. The magician only gestured toward the other pile. The man then turned the first card, only to see that it was, in fact, the two of spades.
Alexander Herrmann
Alexander Herrmann was a French magician born in 1844. His stage name was Herrmann the Great. Initially performing with his brother Carl, Alexander began his solo career in 1862. He is one of the famous magicians in the history of magic. He was a master of elaborate stunts, sleight of hand, illusion and card tricks. One of the most notable tricks of his repertoire is the bullet catch. The bullet catch is the trick where it appeared that the illusionist would catch a bullet either in his hands or teeth
If you think we have failed to compile the perfect list of famous magicians in history, please let us know your favorite in the comments.