Cyril Takayama: Biography, Family, Facts, Net worth in 2017
Born on the 2nd of September 1973, magician Cyril Takayama is perhaps best known for his street performances in Japan and Korea. The American magician comes from a family of immigrants, his father being from Okinawa, Japan, and his mother being French of Moroccan descent. Both his parents were beauticians. Although born and raised in Los Angeles, California, the renowned magician is currently based in Tokyo, Japan. Straddling both the Western and Oriental cultures and connecting with his audiences around the globe, one could say that Cyril Takayama is the embodiment of the 21st-century entertainer.
Early life and the love for Magic
The magician fell in love with the art of magic since he was a boy, at the very young age of six, when he saw a man making a woman levitate and cutting himself in half. He first performed in front of an audience during his junior high school's talent show and, at the age of 12, he became a junior member at 'the most unusual private club in the world', the illustrious Magic Castle in Hollywood. The Magic Castle, apart from being the clubhouse for the Academy of Magical Arts, is a nightclub for magicians and magic enthusiasts like our magician, Cyril. As a teen, Cyril was a bit of a trouble maker.
Back to Japan From USA
At the age of 15, his behavior led him to being expelled. One year later, at the age of 16, he dropped out of school. As one may expect, his family was not very content with the young magician's decisions, so his father decided to send Cyril back to Japan. Just like that, Cyril was on a plane headed towards his home country. But the magician had other things planned.During a stopover in Tokyo, he got off the plane and decided not to get back on. So, the magician ended up busking on the streets of Shinjuku, house of the Tokyo Metropolitan Government Building, earning so little that he could only afford one meal a day.

At the age of 17, young magician Cyril Takayama was trying to become a member of certain Japanese magic circles, but they all considered him an outsider, so that was not a success for him. It was then when he got approached by a rich Japanese businessman. The man recognized Cyril's talent and proposed the magician to work for him at his hotel, four to five days a week. This is when Cyril started to build up a career based on his magic skills. He proceeded to perform as a magician for wedding receptions and parties and after a while, he had created his own stage show. Impressed by the young man's uncanny ability to materialize, manipulate, transpose and teleport any object at will, the businessman, named Ito, sent Cyril to many competitions and magic assemblies. At the age of 21, the magician was already reaping the harvest of his determination that he proved when he decided to perform on the streets of Shinjuku. The International Federation of Magic Societies awarded Cyril a top prize in 1991, as well in 1994.
Notable tricks
His popularity began to soar, and Cyril is now considered one of the early pioneers of street magic. Some of his signature tricks include the hamburger in the menu trick, where he literally pulls a hamburger out of a menu, also revealing that the image of the burger is missing. After taking a bite, he then puts it back on the menu, only this time, the image of the burger is missing the piece that he bit. After that, he picks another burger off the menu, the image, again, disappearing, and he just leaves with it, leaving the audience in awe.
Magician Cyril Takayama Doing Hamburger and Card tricks
Another impressive one is the card through window trick. In this one, he lets someone pick a card from the deck, sign it with a marker, and shuffle the deck thoroughly. He then shuffles the deck again and throws it at a window. As all the cards fall down, only one remains stuck onto the window, but as he tries to grab it, he reveals that the card is actually on the other side of the window. After going to the other side, the card is revealed to be the signed one that the magician shuffled in the deck.
Showbiz
Cyril Takayama has appeared in two television series, reaching audiences in over 26 countries, and in over 15 prime time television specials in Japan. His success allowed him to travel, sharing his magic tricks and visiting countries all over the globe. He got the 'Magician of the Year' title in 2007, securing his place among history's best magicians, icons such as Seiegfried & Roy, a German – American duo of entertainers, and David Copperfield, described by Forbes as the most commercially successful magician in history. Later in 2007, Cyril embarked on a tour throughout Japan, performing his shows to sold out audiences in 35 cities. In 2009, Cyril starred in 'Cyril, Simply Magic', a three part English-language television special produced in partnership with Sony Pictures Entertainment and AXN Asia. Known as a great storyteller, Cyril decided to leave the traditional street magic genre behind and star in a TV series that featured a new fun and innovative way of magic storytelling.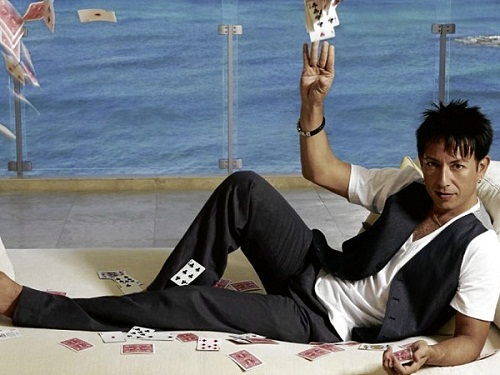 He also starred on 'Cyril's Family Vacation', a show in which all his 'family members' have magic in their DNA. Showing his comedic timing and acting skills, and by using prosthetics, Cyril morphed into his grandmother, his uncle and his cousin Tiny. The show presents us Cyril's 'family' creating magical moments in front of unsuspecting locals and tourists alike. In 2014, Cyril starred in 'Magiculous Rio', a show filmed entirely in Rio de Janeiro. Once again showcasing Cyril's fresh approach to magic storytelling, the show takes a turn towards the ridiculous/ funny, with Cyril trying to blend into everyday situations, often looking more hilarious than serious. Cyril Takayama's net worth is estimated to be in the range of approximately 600 million dollars in 2017, including stocks, properties, and luxury goods such as private planes and yachts.
Fans and haters of Cyril Takayama
As any other famous magician, Cyril Takayama has a devoted fanbase, some even believing that he has some sort of demon powers. Also, he has his share of non-believers, as well as people who claim to have discovered some of his tricks' secrets. There are hundreds of videos online of people performing Cyril Takayama's tricks and then revealing the secrets behind them. For example, there are people who say that the secret behind the hamburger trick is actually that the menu has removable pictures of the burgers and someone behind it is handing the burgers to Cyril and switching the pictures when needed. Cyril himself has explained some of his tricks for the public, the videos being available online. One of the most notable events regarding the revealing of Takayama's secret was on a live Japanese show. When Cyril entered the stage hovering in mid-air on a board, everyone in the public was amazed, except 19 years old Airi Taira, who yelled that she had seen the trick performed on another TV show and said 'His hand is stuck to the car, and it's a fake hand, and there's a bar from the car that's attached to him!'. Cyril then took his jacket off, allowing the show's host to check his arm, who then confirmed that it was real. However, when the host asked to check inside the car, Cyril stepped in front of him and explained that the hoverboard magic is the secret of the trick.
In the words of Cyril Takayama: keep the magic real!