Jon Dorenbos: Net worth, Salary, Biography of Magician and Footballer
One of the notable contemporary magic performers is Jon Dorenbos. Born in 1980 as Jonathan Paul Dorenbos, Jon is an American football player for the Philadelphia Eagles of the NFL. In 2003, he was signed as an undrafted free agent by the Buffalo Bills. He has also played for the Tennessee Titans, as well as playing college football at the University of Texas at El Paso.  Along his career in football, Dorenbos is also a professional magician.
Early days
Dorenbos spent his childhood in Woodinville, Washington. He had a rather troubled childhood. When he was only 12, his father was sentenced to almost 14 years in prison. Alan Dorenbos was charged and convicted of second – degree murder, after killing Jon's mother, Kathy. Shortly after that, Jon was sent to a foster home. He was then adopted, after a legal battle, by his uncle and aunt, Steve and Susan Hindman. Magic was the thing that helped Jon Dorenbos keep his mind off of the unfortunate events.
Jon went to high school in Garden Grove, California, at the Pacifica High School. There, thanks to his performance on the varsity team, he was a letterman in baseball, hockey, basketball, and football. Jon was an honor roll student in high school, earning all – league honors in baseball and football and making Dean's list. While playing linebacker and fullback at Golden West College in Huntington Beach, California, in his freshman year, his best friend gave him a call that would change Jon's life. His best friend was attending the University of Texas at El Paso. At the time, the UTEP Miners football team was in need of a long snapper, so he proposed Jon to transfer and play for the Miners. He sent the coaches at UTEP some video footage from high school, to which he added footage of the Golden West long snapper. After being recruited, he played as the Miners' long snapper in 23 games over three seasons. Jon averaged almost ten tackles each year on punt coverage. He then earned a business degree with the emphasis in economics, finance, and marketing.
Career in football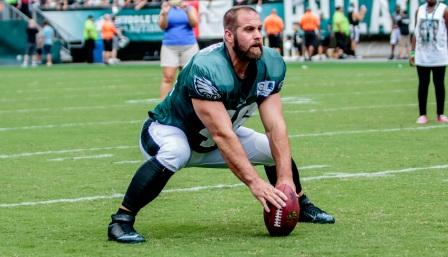 As he started playing football, he was considered to be a real talent. 0.75s is considered to be a good time in snapping the ball to the punter. At the UTEP Pro Day workout, Dorenbos averaged 0.62 seconds, one snap even being timed at 0.59 seconds. Bobby April, who was the St. Louis Rams special teams coach, said that Jon Dorenbos was the best he had seen that year, maybe even one of the top guys he had ever seen. Dorenbos was interviewed by only six teams. After finishing college, Jon was signed as a long snapper by the Buffalo Bills as an undrafted free agent. He was one of the two undrafted free agents who made the team in 2003. He played in all 16 games of the Bills in 2003, his first one being on the 7th of September, 2003. The talented player was already leading in tackles at his position in 2004. Unfortunately, after 13 games, he got injured and got placed on the reserve list, ending his season. In 2005, he was waived during final roster cuts.
In October 2005, Jon Dorenbos was signed by the Tennessee Titans. The Titans decided not to offer him a tender when he was scheduled to become a restricted free agent in 2006. In March 2006, he became an unrestricted free agent. Not being signed for training camp that year, he was re-signed by the Titans for an October game against the Washington Redskins. About one week after that, he was released. One month later he signed a two – year contract with the Philadelphia Eagles, replacing Mike Bartrum, who had suffered a career – ending neck injury. In 2007, he played in all the Eagles games, which led to a contract extension of five years. Next year, he played again in all 16 games for the Philadelphia Eagles. He made five special team tackles that year. In 2009, Dorenbos caught shingles and arrived late to training camp, which was held in Lehigh Valley, Pennsylvania. Nevertheless, he played in all 16 games in the 2009 season, making four special team tackles. In the 2015 offseason, following the releases of veterans Cole and Herremans, Jon became the Eagles' longest tenured player. In October 2016, Dorenbos signed a three – year contract extension with the Eagles. December 2016 had Jon placed on injured reserve after injuring his wrist and having to get surgery. Jon Dorenbos works with several charities, including Brian Moorman's 'Punt Foundation'. This foundation helps children with terminal diseases. He has also won a Mid-Atlantic Emmy Award in 2009, for his performances as the host of 'Inside the Eagles', show that airs on Eagles Television Network.
Net worth and salary of Jon Dorenbos
Dorenbos's main source of income is, obviously, his salary as a football player. He signed a 3 year $3.4 million contract with the Philadelphia Eagles. This included a $350.000 signing bonus, $1.3 million guaranteed and an average annual salary of 1.13 million dollars. In 2017, Dorenbos will earn a base salary of 1 million dollars, while carrying a cap hit of $1.087.500 and a dead cap value of $262.500.
Journey to 'America's Got Talent'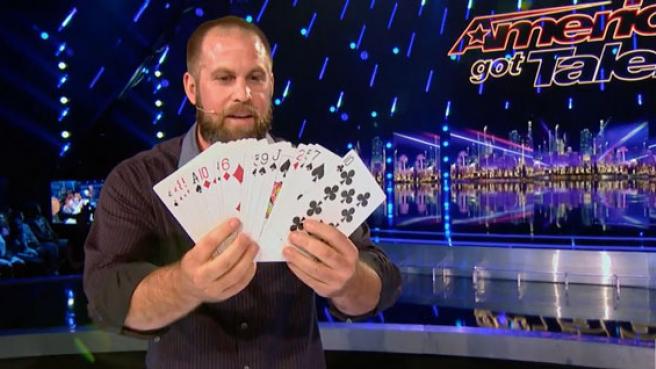 In 2016, the Eagles' long snapper decided to take his magic talents on stage and auditioned for 'America's Got Talent'. Here are the tricks he performed during the contest:
Auditions:
Jon Dorenbos made it through the auditions with a card trick. Charismatic and energetic, Jon walked up on stage and confidently performed his trick, with maximum focus and dexterity. First, he folded a card and put it away from the deck. After that, he just threw a random card from the deck, which turned out to be the ace of diamonds. Then, he asked judge Heidi Klum to pull a random card out of the deck. Jon tells her that the card is going to be the two of diamonds. As she pulls the card out, she reveals the eight of hearts. At that point, the trick seemed to have just gone wrong but, with a simple shake, Jon turns the eight into the two of hearts. After that, he just pulls the three out of his back pocket and continues to get the next cards in a bunch of creative ways. Then, he asks Simon Cowell to think of a card and say it out loud. He picks the three of clubs. Jon proceeds to shuffle the deck, then lays all the cards on the table, having all the clubs together, as well as the hearts and spades. The trick ends with Jon revealing the card that he folded in the beginning, which was, as Cowell picked, the three of clubs.
Judges cuts
For this phase of the contest, Jon Dorenbos came prepared with another card trick. This time, he brought a huge deck of cards. One of the judges picks a card (5 of clubs), then Jon says that he will draw the card on a piece of paper. He draws the ace of clubs, which, of course, is not the right one. He then keeps drawing around the ace, drawing an entire deck. He adds even more, humor by saying that the card is in the deck, playing it cool. He asks the judge to show him the card and says that he will change the drawn ace into a 5 of clubs. He turns the drawing away for a few seconds, and as turns it back, it's still the ace. Once again, he jokes around saying 'That would've been good, though, if I could change it'. The last part of the trick leaves everyone in awe, as a drawn 5 of cards just slides out of the deck that Jon drew, in front of their eyes. Jon got the golden buzzer from Ne-Yo, immediately advancing to the next round.
Quarterfinals
In the quarterfinal round of the show, Dorenbos had all the judges draw something on paper. He then predicted which judge drew what. The trick ends with him breaking a bottle, which contained his correct predictions of all the judges' drawings.
Semifinals
In the semifinals, Jon Dorenbos came on stage with a huge map of the U.S. He asked the judges to throw a football at the map, and whatever state they hit was assigned to them, along with a number that was written on the states. After that, Jon revealed some coins from a locked chest. On the back of the coins there were all the states that the judges hit with the footballs. Jon finally reveals a map that predicted the locations of the judges' throws. This trick got Jon a place in the September finals.
Finals
In the finals, Jon first asked each judge to sign the 2s, except Simon Cowell, who had to write the name of someone important in his life. After that, he put all the cards back in the deck and held a motivational speech while performing some card illusions. After revealing the signed cards, he shuffled the deck, half face up and half face down. Then, he laid all the cards on a table, revealing only one card facing up, Simon Cowell's. Finally, Jon reveals a blackboard with the name 'Eric' written on, which was the name that Cowell wrote on his card. You can see all the tricks here:
Jon Dorenbos collects the autographs of every famous person he performs for on playing cards. He hangs these cards up in his house in Huntington Beach.