Amazing Kreskin: Biography, Predictions, Net Worth, Facts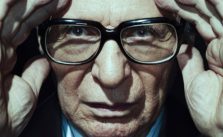 George Joseph Kresge is a well-known mentalist who became popular in the 1970's. He goes by the stage name Kreskin or Amazing Kreskin. His inspiration to become a mentalist came from the famous comic strip by Lee Frank called Mandrake the Magician. Mentalist Kreskin does not claim to have any supernatural powers. He says he is just an entertainer and should not be regarded as psychic.
Early Life
He was born on January 12, 1935, in Montclair, New Jersey, the USA as George Joseph Kresge Jr.His parents were of polish and Italian Descent.
Career
Kreskin started a television series that aired in Canada on CTV from 1970 to 1975. The series was known as the Amazing World of Kreskin. In 1975, some additional episodes were produced in a series called The New Kreskin Show which was like a continuation of the previous series. He has appeared on many Television shows throughout his long career. He appeared 81 times on the tonight show between 1970 and1980.He also made several appearances in the 1980's and '90s on Howard Stern Show and Late Night with David Letterman.  Kreskin became the first person to appear 3 times on the Late Night with Jimmy Fallon.
Kreskin also works as a teacher for some law enforcement agencies where he teaches psychology.
Mentalist Kreskin is still an active performer even at 82 years and he appears annually on CNN and Fox News Channel and regularly on WPIX in New York City.
The Amazing Kreskin Net worth
Kreskin's net worth is continuing to grow each and every year.  His net worth is believed to be at over 2 million dollars. He owns private planes, yachts, and luxury goods.  He also has several properties in the United States and has invested in stock market. His source of income is mainly from his shows that he performs even at his age, mostly in the United States. Kreskin has also20 published books and sold thousands of copies worldwide.  At least two movies have touched on Kreskin's life. He also made two television series between the years 1970 and 1975.
Secrets of the amazing Kreskin
In this book, mentalist Kreskin talks about human potential. He talks of conditioning the mind and the body in order to achieve what others deem impossible. He goes ahead to reveal how people can utilize their mental abilities to achieve what others see as telepathy or clairvoyance. In this book, he explains how readers can heighten awareness, make educated guesses among other abilities. This is a great book, check it out. 
The great Kreskin Johnny Carson
The great Kreskin was a favorite guest. Johnny Carson. Johnny Carson was always intrigued by his magic. At one time, he managed to transform Johnny Carson into a rigid state in the Tonight Show he also got a singer by the name Bette Midler to sit on him while his body was stretched between two chairs. There was no sagging and neither did he feel any pain. He came to be known as 'The Amazing Kreskin' because of Johnny Carson. Johnny would converse with Ed McMahon on their show and discuss how amazing Kreskin was. Because of this, the word 'Amazing Kreskin' was born.
Amazing Kreskin facts
The Amazing Kreskin real name is George Joseph Kresge. He was born in 1935 to polish and Italian parents. At just16 years old, he was named the youngest Hypnotist by the New York Times. He has appeared in television shows more than 500 times.Kreskin became the first person to be featured on the Late Night with Jimmy Fallon in 2009. Amazing Kreskin does not like being regarded as a psychic but rather as an entertainer. He has written a total of eight books. Despite his age, Kreskin still performs on stage and also appears on TV once in a while.Kreskin made a prediction in 2009, that there would be a mass UFO sighting in Las Vegas which was never to be. He also sends some numbers which he tells the subscribers if used in the right way, they can solve any problem they can think of. To receive these alerts, you have to pay a certain fee and most people think that this is actually a way to con people of their money.
Kreskin predictions
In 2009, he made a prediction that there would be a mass UFO sighting in Las Vegas. He promised to give 50,000 to charity if his prediction was wrong. On that day, people camped outside to witness the sighting which was never to be. However, when he was asked about the 50,000 dollars, he said that some sightings of glowing green orbs were made and hence he would not donate the money.
Kreskin also predicted the Super Bowl XLVII. He predicted seahawks would win 43-9. He missed by a point because the correct score was 43-8. On the same game, he also predicted that a certain M. Smith would perform really well and be honored after the match. He was correct because a player by the name Malcolm Smith was later named MVP. In 2012, he also made the following predictions which became true; more people will own guns, Crime will increase nationwide, Technology will be used to access everything about people's lives, Teachers will be given more authority in schools.
I think the most notable and recent prediction that Kreskin made is about Donald J Trump. In the year 2015, Kreskin stopped by FOX 5 where he predicted the 45th president of the United States. At that time, President Trump was not even a nominee in GOP. He did not directly mention Trump's name, but everything that he said seemed to point only to Trump. He gave this clue; "I've been in his house, the one that's been shouting all over." When he said this, who do you think this pointed to? One year later, Donald J trump is the 45th president of the free world, Isn't that amazing?
 Amazing Kreskin's predictions for 2017
World famous mentalist, The Amazing Kreskin with over 6 decades of predicting and entertaining his fans has something for you in 2017.Kreskin was speaking to Tony sweet of Truth be told TV, world renown astrologer Rachel Lang, and Captain Ron when he made this prediction.
Kreskin's prediction for 2017 touches on the movie industry. He talks about how the movie industry is deteriorating each and every day. Why? In earlier years, movies that were less than one hour and a half did quite well in the industry. They were able to give the whole captivating story in that little time and still leave a positive impact on the viewers. But in this day and age, movie trailers have become as long as 30 whole minutes. Most of the movies of today are over two hours long. This is the reason most movie makers are ditching movies for Television Shows. This is very true because more Television series are being launched each and every day, more than even movies.
So what is his prediction? The amazing Kreskin or the mentalist Kreskin has predicted that something or someone will come out to save the movie industries. He does not really specify that it must happen in 2017 but it will eventually happen and when it does the good old days will be revisited. What we have to do now is wait because the godfather of mentalism has spoken.