Female Illusionist: A list of 15 Famous Female Illusionists / magicians.
A female illusionist is a female who is able to perform magic/illusion tricks, ranging from escape tricks to card tricks and so on, in front of people. This is not something that is so much popular to the world but there a couple of female Illusionists and mind you, they have a couple of tricks up their sleeves and they will leave you wanting for more. In this article, we are going to highlight a few of the major famous Female Illusionists around the world.Well, here they are;
Fay Presto
Letitia Winter whose stage name is Fay Presto is known as a Female Illusionists who is also a member of the Inner Magic Circle. She is well known for creating a brand new genre in the close-up magic scene where she took her magic to restaurants and small bars as well.In 2012 she outstandingly won the title of The Magic Circle Close-up Magician of the Year 2012.In 1988 she was voted Party Entertainer of the year for her wonderful illusion acts. she has also managed to swoop into television credits for shows like Heroes of Magic, Paul Daniel's Secrets, The Late Late Show, Dinner Dates, The Car's the Star, Trick on and Wogan. She was also the main subject of a BBC2 40 Minutes documentary, "Illusions of Grandeur", about her life.She really was a part of the movement of UKs early magic scene.
Magic Babe Ning
Her real name is Ning Cai and she was born and still lives in Singapore. Even her name suggests that she is a hot and sexy lady. She has been overly claimed to be the sexiest Female Illusionist of all times. She has also claimed the title of being the First Professional Female Magician who is from Asia. Ning has a partner, J C Sum, whom they move around the world performing magic with. Ning is now retired and she instead plans on starting to teach Yoga. She is married to her partner who still works in the magic arts. Still, her acts were still sexual which added a sex theme to most of her performances as she performed along with her partner J C Sum. She released a memoir of her self-titled"Who is Ning Cai."Her last magic trick before she retired was the disappearing trick which closed her career.
Dorothy Dietrich
She is a famous female illusionist and is also known for being an escapologist. She also holds the record of being the only female to have ever done the bullet catch trick. She is also known as the first female illusionist to have ever performed a straitjacket escape while suspended hundreds of feet above the ground. All of these have put her on top of the female illusionist list. Apart from this, she is also known for her Houdini expertise. This gained her the title and nickname, "The Female Houdini". She has duplicated most of Houdini's famous escapes which included the famous bullet catch magic performance which Houdini is claimed to have backed away from.
Misty Lee
Misty Lee is an American voice actress, comedian and a professional female illusionist she was born in Mount Clemens, Michigan. She claims that her childhood is what she credits for her unique sense of humor and inspiration for all her work. She was specializing in Dentistry even before she joined magic. She has been mentored by some of the leading names in professional magic. She is the only magician to ever be admitted into the Institute for Analytic Interviewing. She has also gained names like the Human Lie Detector because she has mastered the skill of cognitive interview techniques.As of now, she is married to an animations producer Paul Dini. They have both been featured together in various shows like the Dog Whisperers which they partook together with their two dogs that are highly trained.She is also an activist against domestic abuse and she has even taken part in writing and starring in a short PSA on behalf of the Domestic Violence Hotline and it was titled Escape.
Kristen Johnson
She is an award-winning escapologist who works side by side with her husband under the name Living Illusionists. She was born in Glens Falls, New York and she is a professional Female Illusionists. Apart from that, she is also a Christian. She has done the water escape act in front of great masses of people. She has also been featured on the cover of the June 2009s magazine Living Ring which is basically all about magicians.
Princess Tenko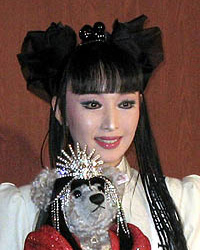 Mariko Itakura whose stage name is Princess Tenko was formerly a musician before she decided to join the art of doing magic. As a singer,  she was known by the stage name Mari Asakaze.  She decided to become the apprentice to the first Ten ko Hikita who was a male Japanese magician and they shared the same manager. It is believed that the older Tenko passed his mantle to her before he died of heart disease.
Ariann Black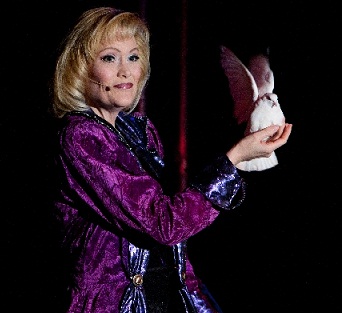 She is a Female Illusionist who is based in Los Angeles. She has her own show and she has headlined in major local and international TV shows. She also encourages other women to become performers. She was voted as the female magician of the year in 2004 and 2009 which is a great achievement in her career as a female illusionist. She has also been awarded the Magician of the year by the International conclave of illusionists after outstanding performances over the years.
Mara Kazan
Her birth name is Maartje van Olst. She joined the Trio Magic Unlimited since she has always been in love with magic from an early age.The trio perfected and mastered their craft they became the youngest trio to ever perform in Las Vegas while still in their mid-teens! They still continue to perform in major stages around the world.
 Maria Gara, The Snake Babe
Even her name suggests she is sexy and being a snake babe obviously her magic tricks revolve around snakes and sex which are sure to pull in great audiences. She has been overly criticized for her performances being overly sexual but she says that magic is fun and that even adult fun is good too if the audiences know what they are in for in her shows.
Scarlett, Princess of Magic
Her true name is Rachael and was born in Reno, Nevada in 1988.Before becoming a female illusionist, Scarlett was a dancer. Then she joined the magic scene and she started performing family-friendly magic in Hollywood. Later she turned her magic arts to become overly sexual and thus her and her stage crew gained the name "Scarlett and the Seductive Ladies of Magic." She has shown that magic runs in the family genes, being the younger sister to Female illusionist Melinda Saxe.
 Lay Amila
Also known as Belinda Roy she is professional international Female illusionists. She has often claimed that without magic her life would be a mistake.  She is a mentalist and illusionist from Germany who refers to herself as the first lady of magic. She has been awarded the Best Illusions Act award. She started performing magic at a  very young age as she became among the first female illusionists to perform worldwide.
Laura London
Laura London fools the Queen is a title that has found itself spreading like wildfire after she performed for the Queen of England on her 80th birthday. She has also performed for Prince Charles on various occasions. She holds the title for being among the few women to have performed for the Queen. She has the ability to perform for any audience from the Royal family to Rock stars and other large masses of people.
Connie Boyd
She is best known for her signature show "The Beauty of Magic". Obviously, she is hot too.on countless awards for her outstanding and sophisticated magic acts. She started by training how to dance ballet as a chill until she got an injury that prevented her from pursuing her dancing career. She decided then to become a trapeze artist until well, yet another injury made her to turn into becoming a magician which seems to be the best thing for her as fate would place considering her outstanding performances. Ever since she has starred in and produced numerous magic shows.
Sophie Evans
Sophie Evans is well known for her performances of a close-up magic of which most of us have never understood how she does it. Most/many magicians start by being in teams so that they can help each other grow, and well, so did Sophie. She joined and started as a part of the Twisted Cabaret with Kevin James. She went on to perform a solo close up show which lead her to win the best closeup magic award. She is one of the very few Female Illusionists to have ever performed in Las Vegas even going on further to have performed in every room of The Magic Castle.
Megan Knowles-Bacon
She joined the magic arts at a young age. What shocked her most was the fact that most of the time she was the only female illusionist in most of the clubs that she went to performing in. Being the only female in the clubs where she performed in really made her lonely in the field but she still pushed on.She is a Professional Female Illusionist who joined the Magic Circle. She is known for being the first female illusionist to become an officer in The Magic Circle. She broke the barriers when she became the first female officer in The Magic Circle. The organization has been ongoing for over 100 years but there has never been even a single female as an officer. What honor. But even though she is an officer in The Magic Circle, People still tend to mistake her for an assistant while she is performing on stage which is really not a good thing.
[poll id="3″]